A gem that beckons the hearts of both novice and experienced artists alike, the gem that unlocks a creative path that has taken the world by storm and the gem that has been making waves in the world of crafting and relaxation both. But what exactly are these gems of creativity that spellbind the art lovers? Diamond painting.
Diamond painting kit is not just an art kit but it is a gateway to a world of creativity that offers a unique artistic journey that combines the gem-like drills with a canvas and serves as a medium that makes your imagination flourish. Whether you are someone looking for a fresh avenue for self expression or someone looking for stress relief, you are about to embark on an enchanting journey in the world of Best diamond painting kits where each gem is waiting to be discovered and every journey is waiting to be embarked upon.
1. Paris Spring Flower Diamond Painting
Paris spring flower diamond painting transports the artists to the enchanting streets of Paris. This diamond painting kit showcases a picturesque springtime scene in the City of Love that can evoke the feelings of romance and wanderlust. The Eiffel Tower stands tall and quaint Parisian streets beckon you to wander through them. The colors, the details, and the radiance of your artwork capture the very spirit of Paris in spring. As you gradually complete this paint by diamonds kit, you can witness the transformation of your canvas into a breathtaking depiction of Paris.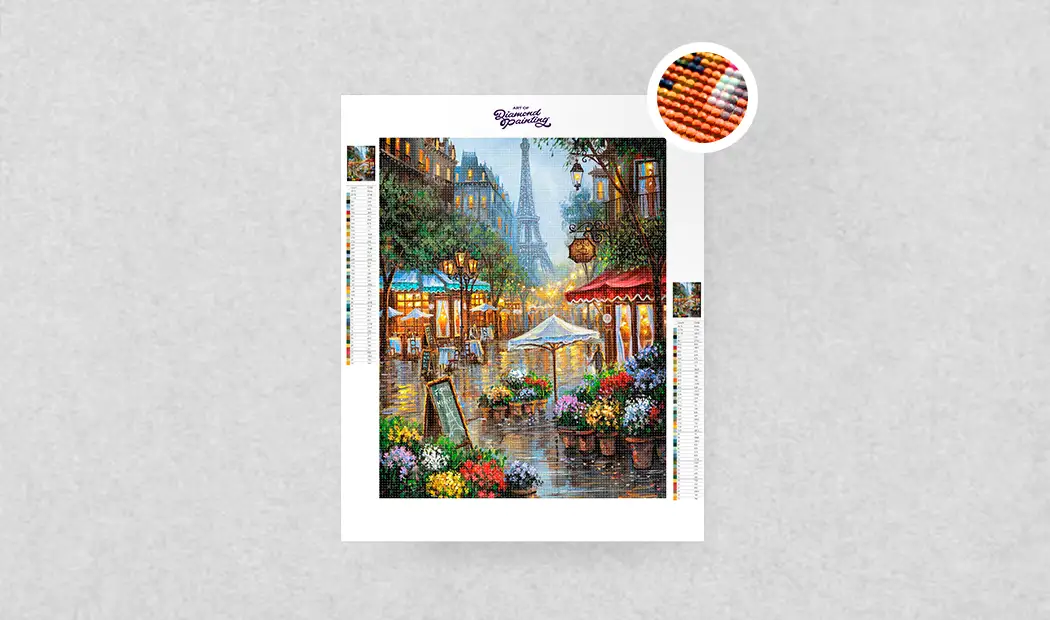 2. Diamond Painting Owl
Owls, the remarkable birds known for their enigmatic allure and association with wisdom, have always been captivating subjects in the world of art. This diamond painting owl kit offers a unique and fulfilling experience to create a stunning portrayal of this iconic bird while celebrating the mystique and beauty of these birds. In such best diamond painting kits, the owl is the centerpiece of the painting that draws you into its world of wisdom with its watchful eyes and graceful presence.
3. Colorful Dog Diamond Painting
The colorful dog diamond painting is a diamond painting designed specifically for animal lovers. This kit offers a canvas that showcases an endearing dog brought to life with a burst of vibrant and lively colors. This dog diamond painting craft is a celebration of the special bond between humans and their canine companions and it allows you to capture that love and spirit of the animal on canvas, creating a unique and cherished artwork that will warm the hearts of all who see it.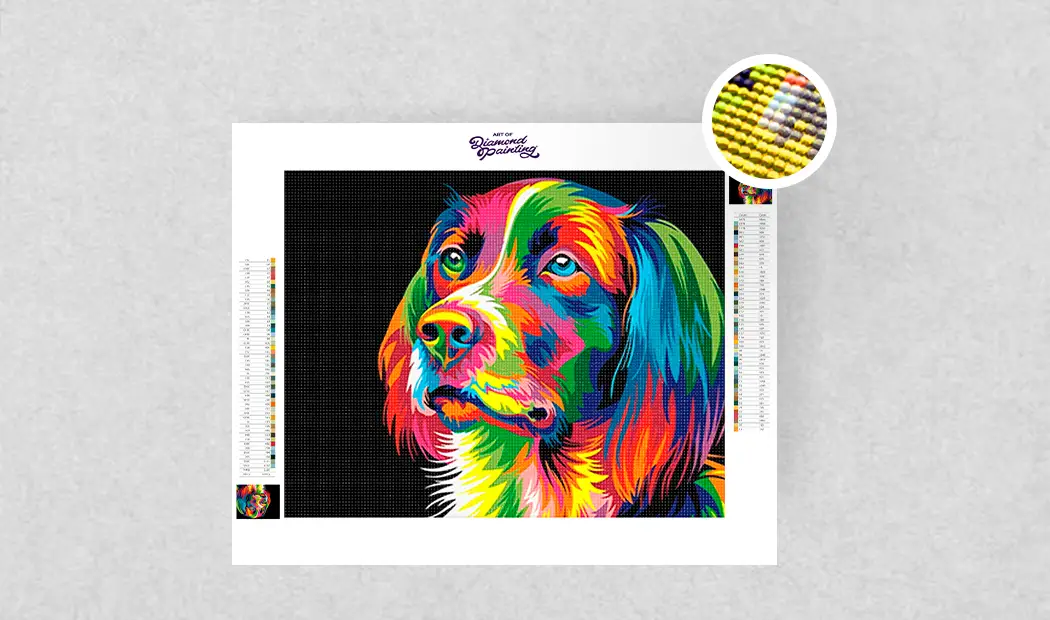 4. Midnight Diamond Painting Tree
Midnight diamond painting tree is a captivating choice for nature enthusiasts and selenophile as it brings the beauty of the night sky to life on canvas. This best diamond painting kits for adults not only captures the essence of a tranquil night but it also captures the soft glow of moonlight and the twinkling stars. This kit is an invitation to step into a realm where the wonders of nature and the magic of the night converge. It's a chance to be the artist behind this celestial masterpiece, where each diamond drill is like a star in the sky, and the tree stands as a symbol of resilience and beauty.
5. Peonies – Floral Painting with Diamond
The king of flowers known for its luxuriant petals and exquisite beauty, captivate the viewers with its allure. This floral diamond painting kit captures every intricate detail of these blossoms. With this best paint by diamonds kit in hand, you are embarking on an artistic journey that celebrates the unparalleled charm of peonies and allows you to translate their splendor onto canvas with remarkable precision.
6. Custom Diamond Painting
Custom diamond painting provides individuals with the opportunity to transform their cherished photographs into exquisite visual diamond painting custom. This fascinating art form allows for the transformation of any significant picture, be it a heartwarming family portrait filled with joyous smiles, a candid snapshot capturing the playful antics of a beloved pet, a landscape from memorable journeys, or even a touching moment captured during special occasions. With customized diamond painting, these precious memories come alive in an unparalleled and dazzling manner that is truly one of a kind.
Conclusion
In the world of creative expression, our exploration of Gems of Creativity: Best Diamond Painting Kits comes to an end and we can surmise that the allure of diamond painting lies not only in its dazzling results but also in the meditative process. These kits offer us a chance to unwind, to connect with our inner artists and to bring colors to life. So, let your imagination shine as brightly as the diamonds you place, and may your artistic path continue to sparkle with the joy of creation.
Don't forget to explore the wide selection of custom diamond painting kits available at Art of Diamond Painting. Whether you're looking to create a dazzling work of art from your cherished photos or you're interested in ready-made kits featuring various themes and designs, Art of Diamond Painting has you covered!