Diamond Painting With Your Pets Photo
$18 – $53
on all diamond painting kit
on first order: | Use Code: HITHERE!
What is Diamond Painting?
Diamond painting is a unique form of mosaic art where artists use glossy resins to meticulously complete intricate designs on a pre-glued canvas. The final result of several hours of hard work is a stunning piece of artwork that showcases your unique craftsmanship. This masterpiece can serve as an exquisite addition to any interior space or be given as a remarkable gift.
Moreover, diamond painting serves as a soothing and calming activity that effectively relaxes the amygdala, which is responsible for generating feelings of fear in the brain. This allows your mind to achieve much-needed rest and rejuvenation.
You may read more here.
How to order a diamond painting kit with your own photo?
Get ready to paint like a pro with Art of Diamond Painting. Here's how to order your kit today!
1. Select the right photo
Select an ideal canvas dimension that suits your needs, and choose from a variety of sizes available, renging from small to extra large.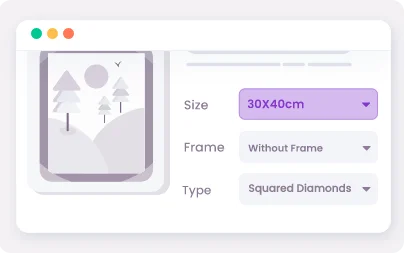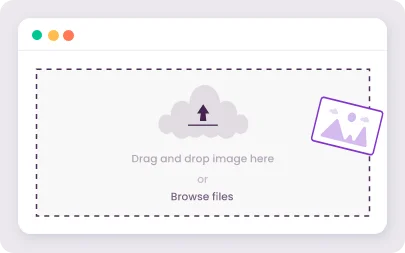 2. Upload the photo
Please upload the photo using the form above. If you encounter any difficulties, kindly submit the photo to our support team at [email protected]
3. Place your order
Go to the checkout page, enter billing and shipping details and click submit. Your Diamond kit order will be processed shortly!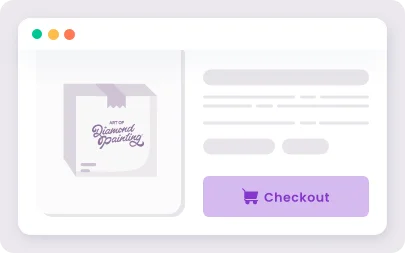 Why would you order a custom diamond painting kit?
Preserving cherished memories can be a truly remarkable experience. Rekindle the beauty of your favorite photograph by transforming it into a personalized diamond painting. Whether it's capturing moments with family, loved ones, or even beloved pets, this artistic endeavor allows for an extraordinary means of eternalizing those special connections.
A custom diamond painting is also a remarkable gift. Just envision being gifted with a beautifully handcrafted image from someone dear to you!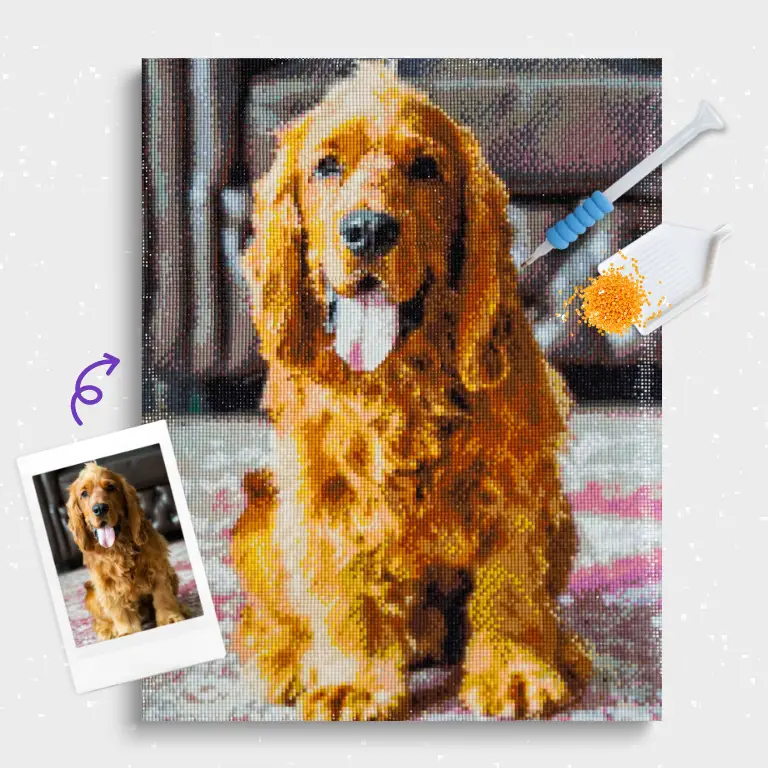 Why will you love diamond painting?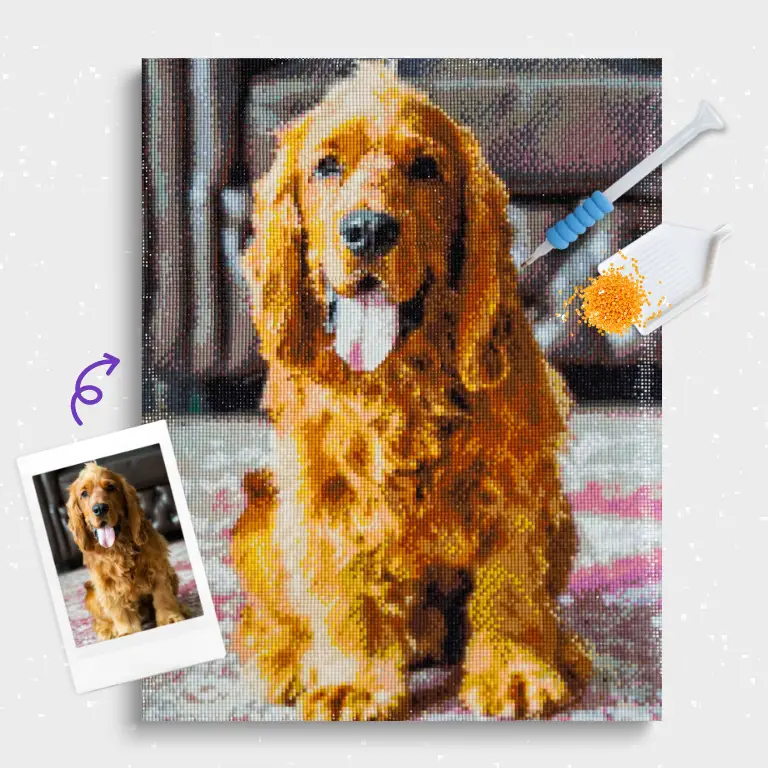 It will make you feel relaxed.
It takes your mind off of daily stress.
It makes you feel happier.
It makes you focus better.
It improves your overall mental health.
All facts above are scientifically proven.
What is in the package?
Art of Diamond Painting have two kit options:
Canvas: 100% High quality materials for diamond painting
Canvas Size: 25x30cm, 30x40cm, 40x50cm, 40x60cm, 50x60cm
Diamonds: Two type of diamond available Rounded and Squared
Tools: Diamond tray, Glue, tweezers and pen
Guide: Instruction guide print / paper
DIY Frame kit: A finely woven canvas Kit
Canvas: 100% High quality materials for diamond painting
Canvas Size: 25x30cm, 30x40cm, 40x50cm, 40x60cm, 50x60cm
Diamonds: Two type of diamond available Rounded and Squared
Tools: Diamond tray, Glue, tweezers and pen
Guide: Instruction guide / paper
Squared vs rounded diamonds: what's the difference?
When deciding between a square or rounded diamond drill, it is important to note that there is no definitive answer. This choice often comes down to personal preference, as many factors are subjective in nature.
It is worth noting that, in the majority of situations, rounded items are simpler to put together. So, we recommend the rounded ones for beginners.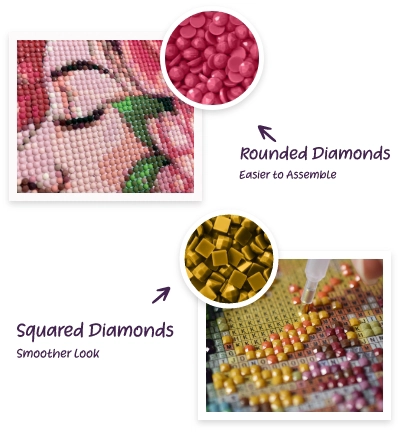 Orders and shipping
Free and fast delivery
Order today to get it approx by .
We cover all taxes.
Returns and exchanges
We strive to ensure our customers receive the best possible experience. Learn more
Payments
Guaranteed safe & secure checkout
This Diamond Painting With Your Pets Photo kit contains all the necessary materials to create your artwork
Instruction for
beginners
Different colors
diamond kit with tray
Product description
Diamond Painting With Your Pets Photo diamond painting is an awesome way to begin your painting journey. A journey full of colours that sometimes comes with lots of patience, passion, and planning. But, always with love. At the conclusion of each day, it provides a gratifying sensation that enhances your self-assurance as you realize your own accomplishments. So why delay any further? Simply make your purchase and begin today.
Here is the collection of exquisite artwork available at our store:
Size(s): From 25x30cm / 50x60cm
Support: Numbered linen canvas
Types of diamond: Squared & Rounded (Colourful)
Accessories: Glue, Tweezers and Pen
Packaging: Securely wrapped packaging
Frequently asked questions
01.
What materials do I need for diamond painting?
To begin your diamond painting journey all you need is a diamond painting kit. The kit includes colored resins, canvas, diamond applicator, wax for the pen, tray for diamonds and instructions.
02.
Can anyone do diamond painting?
Yes, anyone can do diamond painting as this art form is suitable for all ages and skill levels.
03.
What should I do if I run out of a specific diamond color in my kit?
The diamond painting kits include an appropriate amount of diamonds so there are very little chances of running out of them.
04.
How do I store my diamond painting supplies when not in use?
In order to store your diamond painting supplies, you can use plastic storage containers.
05.
Can children do diamond painting?
Yes, children can also do diamond painting but they might require the supervision of adults, especially to ensure they don't ingest the small diamonds or other materials.
06.
What is the difference between partial and full drill diamond paintings?
Full drill diamond paintings have diamonds covering the entire canvas whereas partial diamond paintings cover only a portion of the canvas leaving some areas blank.
07.
What's the best way to store leftover diamonds from completed projects?
Store leftover diamonds in plastic resealable bags or small containers with proper labels corresponding with the color codes.
For other questions please visit our FAQ page or contact us.