A canvas full of mystery,
With sparkling gems in symphony.
In the night of spooks and eerie dreams,
Spooky diamond paintings, where Halloween gleams
As the crisp autumn air ushers in the arrival of Halloween, there is an enchanting opportunity to imbue your humble abode with an undeniable mystical allure. And what better method to achieve this than by embarking on a mesmerizing journey into the alluring realm of Halloween diamond painting? If you are prepared to embrace a shadowy and whimsical ambiance while infusing your Halloween embellishments with unmatched creativity, a world filled with delightful surprises awaits you.
Step into this world of delightful surprises and mystery as we delve deep into the mesmerizing realm of Halloween diamond painting designs. Unveiling an array of bewitching creations, prepare to be captivated by the elusive glow emanating from intricately crafted pumpkins and haunted spirits that send electric shivers down your spine. Celebrate this hauntingly beautiful season with masterpieces that will transport you to a place where artistry meets eerie allure.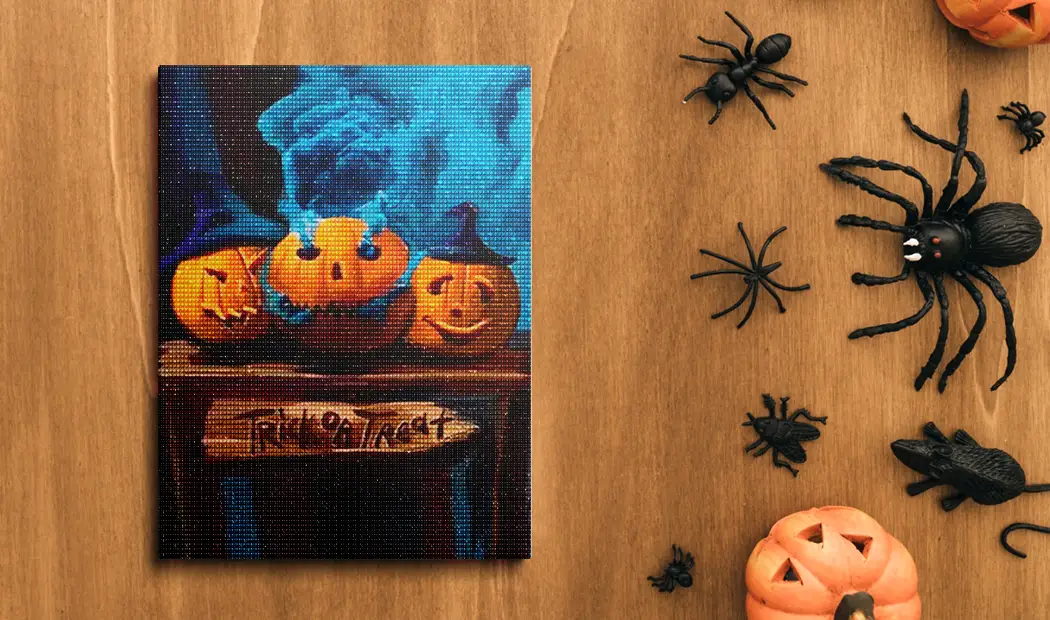 This spooky Halloween diamond painting captures the essence of Halloween, featuring three scary looking Jack o' lanterns covered in smoke and wearing witch hats. The vibrant and playful colors, combined with the intricate details, make this a hauntingly delightful addition to your Halloween art. As you place each sparkling gem, you will be transported into a world of youthful excitement and the joy of trick or treating. Such Halloween painting kits are not only a celebration of the holiday but a reminder of the fun and magic it brings.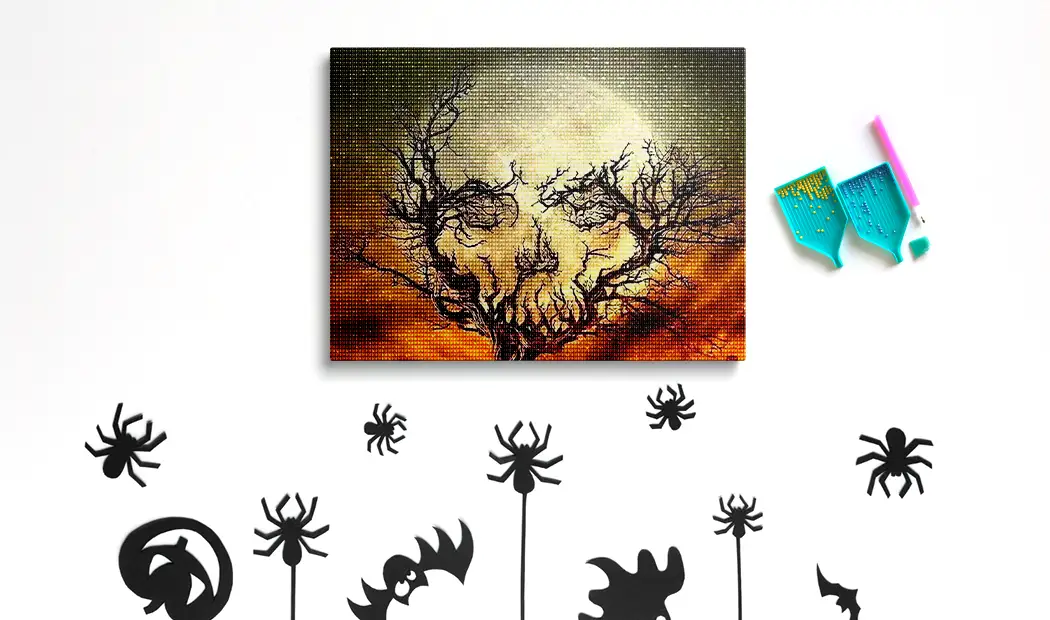 This weeping willow Halloween diamond painting kit features a spooky weeping willow tree against the backdrop of a full moon and a gnarled tree. The use of dark and moody colors combined with the luminescent glow of the moon creates an eerie and enchanting atmosphere. The intricate details in the tree's branches and the fence make this Halloween diamond painting canvas a perfect choice for those who appreciate the darker side of Halloween. As you place each gem, you'll be drawn into a world of mysterious tales and ghostly lore.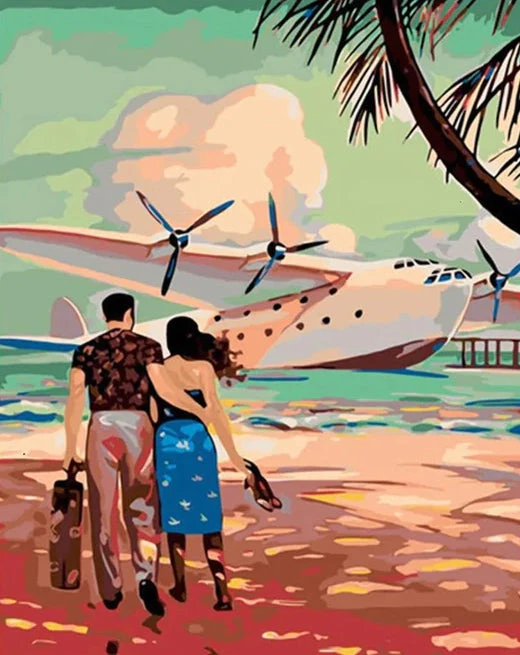 The "Halloween Pumpkin" diamond painting design captures the spirit of the holiday in a charming and festive way. This horror diamond art showcases a pumpkin in a basket with beautiful birds and surrounded by colorful autumn leaves. The warm and inviting colors of this design make it a perfect addition to your seasonal decorations, bringing a sense of coziness and tradition to your space. As you work on this Halloween diamond painting, you'll feel the nostalgia and warmth associated with Halloween and the simple joy of carving pumpkins.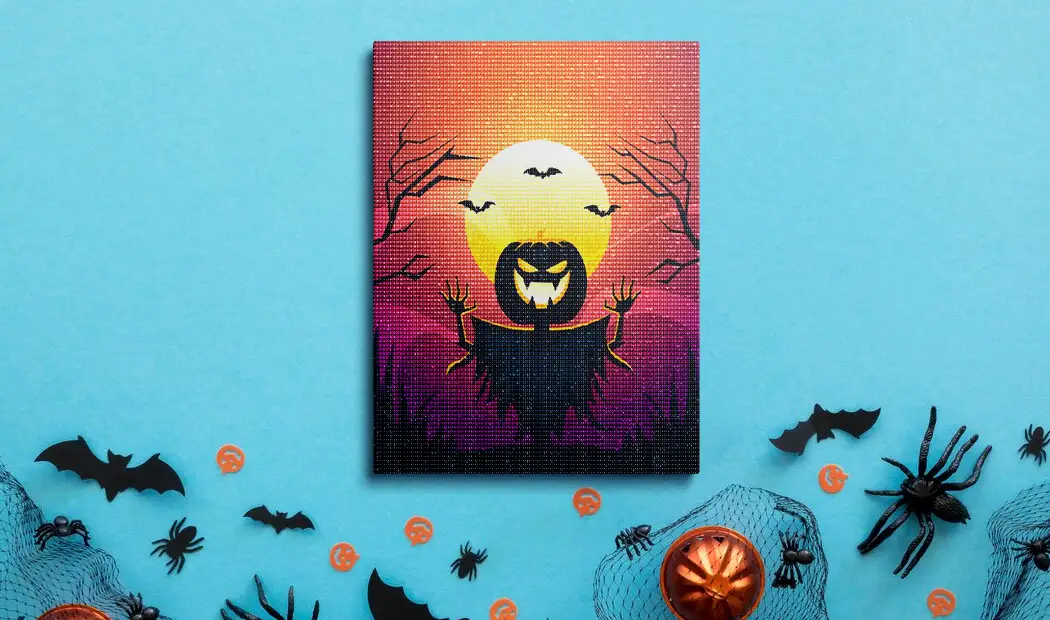 This hauntingly beautiful diamond art Halloween features bats and a ghostly jack o' lantern under the eerie light of the moon. The use of purple and warm hues creates a chilling and otherworldly atmosphere. As you complete this horror diamond painting, you'll be drawn into the realm of eerie tales and ghostly mysteries. Such Halloween diamond painting kits are a perfect addition to your Halloween décor, adding a touch of macabre elegance to your space.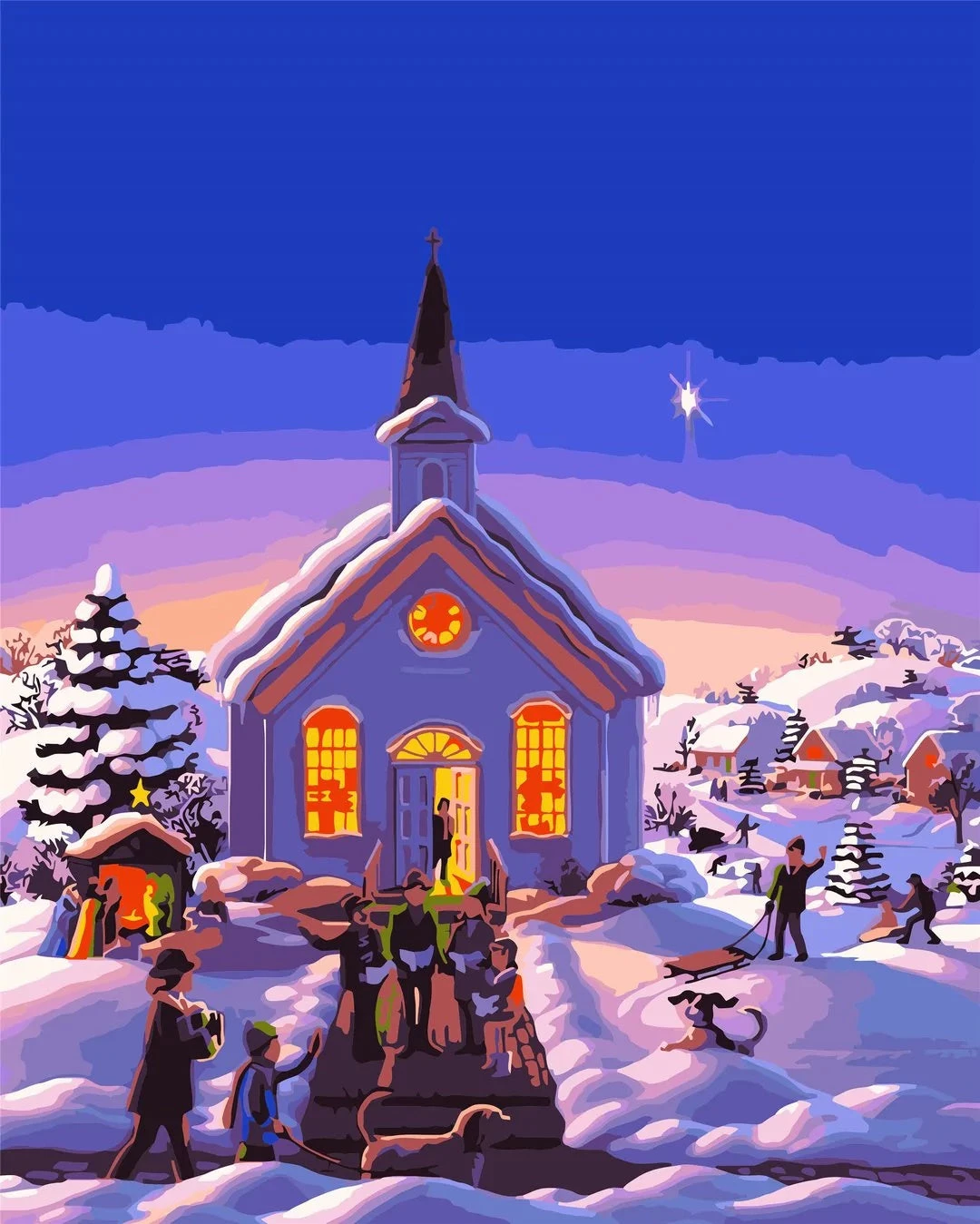 This Halloween painting features a charming cat wearing a witch's hat, surrounded by pumpkins and a broom. The amalgamation of lively and enchanting colors transforms this piece into a captivating addition to your festive décor. Whether an ardent feline enthusiast or someone who relishes the exuberant and jovial aspects of Halloween, immersing yourself in this Halloween diamond art will undeniably evoke a sense of delight. It serves as a gentle yet powerful reminder of the jubilation and connection fostered by the spirit of Halloween that transcends all boundaries.
Summing Up
As our exploration of Halloween diamond painting designs comes to a close, it is our sincere hope that you have found inspiration in the captivating realm we've delved into. The artistry and craftsmanship inherent in diamond painting Halloween kits not only offer an avenue for creativity but also allow one to forge a deeper connection with the essence of Halloween. By creating these intricate pieces, you are not merely producing Halloween paintings; rather, you are offering a glimpse into your very own immersive world – one that pays tribute to cherished traditions while embracing the macabre allure so characteristic of this bewitching time of year.
Whether you're a seasoned diamond painter or just starting out, embark on an artistic journey with one of these captivating designs from Art of Diamond Painting. As each sparkling gem finds its place, the magic and enchantment of Halloween will come alive on your canvas, transforming your home into a realm filled with creativity, joy, and the spirit of the season. Celebrate this holiday with depth and immerse yourself in the celebration like never before.